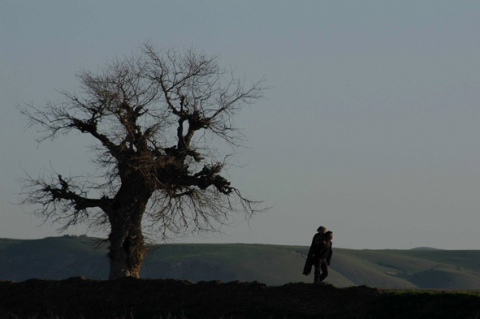 On Tuesday March 27, 2007 at 12:20 pm in Baluch Khaneh district of Sarpol City in Afghanistan the explosion of a bomb at the shooting scene of "Two-legged Horse" (Asbe do-pa), Samira Makhmalbaf's new film, resulted in severe injuries of 6 people and a number of extras and the death of one horse.
The bomber first entered the filming group as an extra among hundred others and then threw the bomb from the roof top.
The ISAF Security forces find this action an attempt to kill the Makhmalbaf family and do not believe the Taliban and Al-Qaeda were involved. So far, no group has claimed responsibility for this attempt.
Immediately after the command of "sound, camera, action" the bomb was thrown at the scene. The sound and picture of this explosion were recorded and the bomber was seen.
This is the fifth foul attempt towards Makhmalbaf family. The initial two unsuccessful killing attempts were aimed at Mohsen Makhmalbaf in Iran near the Afghan border during the making of "Kandahar" in 2000. Two other incidents involved an attempt to abduct Hana Makhmalbaf during the shooting of "At Five in the Afternoon" in Kabul in 2002.
Two-legged Horse (Asbe do-pa), written by Mohsen Makhmalbaf and directed by Samira Makhmalbaf is a joint production by Makhmalbaf Film House and Wild Bunch Company.