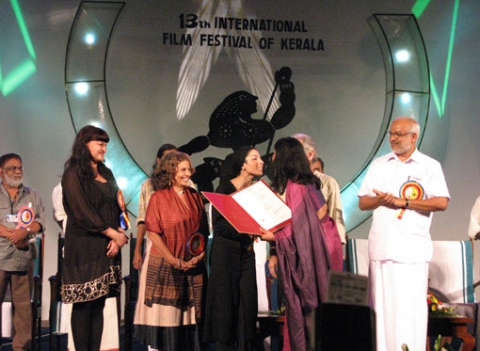 The NDTV Television Network in India concurrently with the closing of the Kerala Film Festival announced that it will distribute Samira Makhmalbaf's films the Blackboard, At Five in the Afternoon and her latest film Two-Legged Horse in India as DVD format.
The said three films were screened and welcomed by the public in the Contemporary Masters Section. Samira had attended as jury in the International section in India's 13th Kerala International Film Festival. The tribute to Samira Makhmalbaf program that had begun by the screening of the film the Blackboard and with the presence of the Minister of Culture continued on until the last days of the festival.
Also, the Women's International Festival in Germany announced that it has prepared Samira Makhmalbaf's workshop in that festival as an educational package in three DVDs that include behind the scene of the Two-Legged Horse and Samira's style of direction The said festival also announced that it will offer it to the University of Tubingen to be taught to film major students.
It is worthy to note that Two-Legged Horse has so far been screened in Toronto, San Sebastian, Montreal, Belgium, Middle East, Women's World, Sao Paolo, Pusan, AFI in America, Rome's Asian Films, Estonia and India's Kerala film festivals.