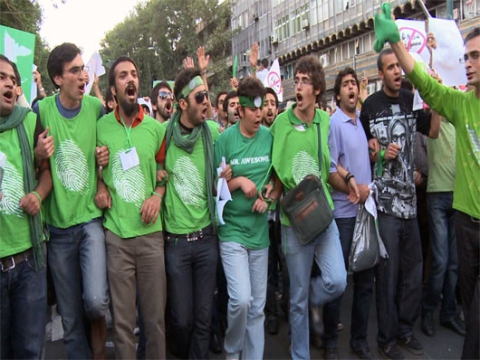 Although earlier Marco Muller, the head of the Venice film Festival, has announced the list of the participating film for the 2009 edition of the festival, after hearing the news about a new film by Hana Makhmalbaf being edited he went to watch it and decided to include the film in the official section of the festival.
Green Days is shot during the days before the Iranian presidential election and the film pictures the great hopes Iranian people hold for a political change in their country. The film take place in the streets of Tehran and the main characters of the film are the ordinary green wearing Iranian public.
"Green Days" will be screened on the 10th and 11th of September in Venice film festival.
 
Hana, now 20 years old, was invited to Locarno film festival with her first video-shot film The Day My Aunt Was ill when she was only 9 years old. By the time she was 13 she found her way to critic weeks of Venice Film Festival with her documentary film called Joy Of Madness which was shot in Kabul of Afghanistan. At the age of 17 she got invited to Berlin and San Sebastian film festival with her first feature Buddha Collapsed Out Of Shame. The film Buddha, shot in Bamiyan city of Afghanistan, won over 22 international awards for Hana, including the Crystal Bear from Berlin and the Grand Jury award of San Sebastian Film Festival.
 
Hana Makhmalbaf ran away from her country after election while the government agents were after arresting her.
Wild Bunch is the international distributor of the film.