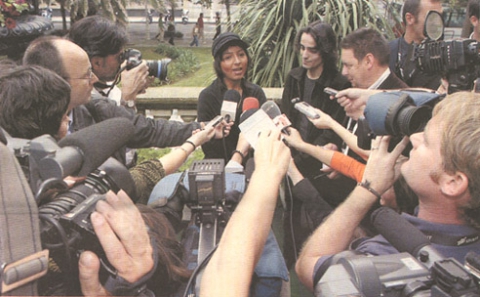 "ENI Windows on the World Prize" for the Best Feature Film went to Hana Makhmalbaf the 19 year old Iranian filmmaker whose film "Buddha Collapsed Out Of Shame" competed in the Windows on the World Feature Film Competition at the 18th African Asian and Latin American Film Festival of Milan 2008.
The jury, (Danny Glover-Teresa Cavina- Tahar Ben Jelloun), while declaring Buddha Collapsed out of Shame by Hana Makhmalbaf as the winner of the Best Feature Film award announced: "Our praise goes to the film for both the director great artistic vision and the importance of the political problem she sensitively deals with in her film. A film about the origins of fanaticism as it has developed in Afghanistan. And the fact that the story is about children playing like the Taliban shows us how they are manufactured adults ready to kill and die for ideas obscurantist. It is a moving film which sends out its message very effectively."
This is the 10th international award for the film "Buddha Collapsed Out Of Shame" by Hana Makhmalbaf. Previously the film has received the following international awards as well: "Crystal Bear", Berlin Film Festival, " Special Peace Award", Berlin Film Festival, "The Special Jury Prize" from San Sebastian International Film Festival, The TVE Award "La Otra Mirada" by Spanish TV, "Unicef special award" in Rome Film Festival, "Daniel Langlois Innovation Prize" from Festival du nouveau cinéma in Montreal, "Discovery Prize" from Sarlat Film Festival in France, "The Special honor award" Association Club de las 25 in Spain and "Woman & Equality Award" from Thessaloniki International Film Festival in Greece.
The film "Buddha collapsed out of shame" has been screened in cinemas across Europe so far. The spanish distributors still with more than 17 prints in cinemas of its country, gives the news of running into the 8th week of screening this weekend.