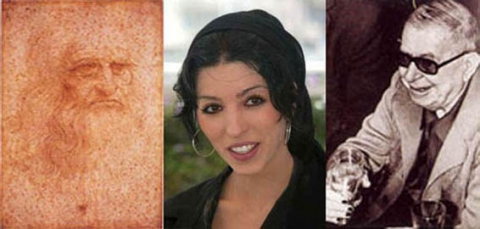 This 192 pages book by Jonathan Lee has recently been published by Prestel publication in English, with sections dedicated to the super famous people like: Pablo Picasso, Leonardo da Vinci, Gogan, Claude Monnet, Jean-Paul Sartre, Ernest Hemingway, Sergio Leone…. Between Jean-Paul Sartre and Leonardo da Vinci there is section dedicated to Samira Makhmalbaf for her artistic discovery and vision on Afghanistan with her film At Five In The Afternoon:
"Read this director's CV then, and you can't help asking whether you could be doing more with your life. At 18, Makhmalbaf became the youngest filmmaker to compete in the Cannes Film Festival. By 23, she had four films to her name—shooting in Kurdistan, Iran and Afghanistan to explore themes of war, Kurdish oppression and cruel patriarchal regimes. Her work has screened at festivals throughout the world, garnering dozens of awards on en route.
Admittedly, filmmaker's genes have helped. Samira's father is Mohsen Makhmalbaf, the famous Iranian writer/director, and her siblings have produced a dizzying array of films, photography and poetry. But since her 2003 release, At Five in the Afternoon, the critics have worked themselves into a frenzy over her work: the New Statesman rated her as 'one of the ten who will change the world' while the UK newspaper The Guardian ranked her among the globe's top 40 directors."
Part of the introduction of the book:
"Discover the places that inspired the greatest artists.
This travel book takes readers on a whistle-stop tour of the world, as seen through the eyes of writers, photographers, filmmakers, composers, painters, sculptors, and philosophers.
The global and artistic odyssey flies from the tropical paradise of Gauguin's Tahiti to the Beatles' hippie enclave in Rishikesh, from the ghoulish wilderness of Arthur Conan Doyle's Dartmoor to Wittgenstein's snow-bound fjord hideaway, and from the hashish dens of Paul Bowles' Morocco to the Wild West of Sergio Leone. Each entry features colour photographs, practical travel advice, and information on how to get closer to the artist through exhibitions, festivals, performances and museums.
50 Great Escapes also features a global directory of 21st-century hotspots, allowing budding artists to experience a creative epiphany of their own. Travelers planning a trip around an intriguing location, aspiring artists looking for a retreat and fans keen to explore the stories behind their favorite works will find this guide an entertaining and valuable resource."