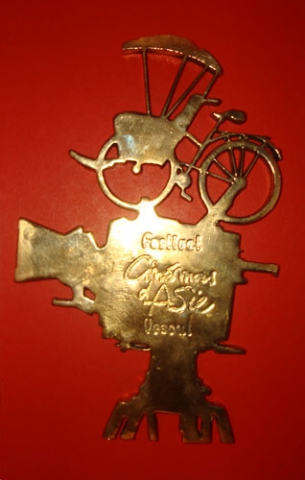 Vesoul International Festival in France on February 10th 2009 while holding a tribute to and screening of 18 films by the Makhmalbaf Film House will be awarding the Golden Bicycle prize to Mohsen Makhmalbaf for creating valuable cinematic works. This will mark the one hundredth prize awarded to the Makhmalbaf family.
The granters of these awards include the following countries:
France, England, United States, Spain, Italy, Austria, Canada, Switzerland, Japan, India, South Korea, Norway, Czech Republic, Singapore, Greece, Ukraine, Armenia, Morocco, Argentina, Poland, Brazil, Turkey and Belgium.
From the three most reputable world festivals the Makhmalbaf family has received 4 prizes from the Cannes, 10 prizes from Venice and 3 prizes from the Berlin film festivals.
Additional prizes:
The Guardian newspaper has selected Samira Makhmalbaf as one of 40 of the world's most celebrated filmmakers for two consecutive years.
Times magazine also has selected Kandahar as one of the world's hundred best films and Gabbeh as one of the 10 best films of the 1990's.
Also, the heads of the world festivals have selected A Moment of Innocence as one the ten best films screened in international film festivals in the 1990's.
The Makhmalbaf family's one hundredth prize by tradition will be donated to the Iranian Cinema Museum.