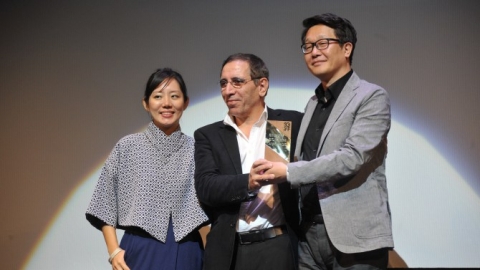 The 26th Singapore International Film Festival (SGIFF) paid tribute to Iranian filmmaker Mohsen Makhmalbaf with a retrospective and an honorary award.
 
SGIFF executive director Yuni Hadi, said; "Makhmalbaf's films have been a regular feature in the history of SGIFF, with Gabbeh opening the festival in 1997, and Kandahar in 2002.
"His unyielding efforts in conveying the untold stories of a region through film, in honest and profound ways, are unmatched."
"We celebrate and pay tribute to his perseverance, fervour and conviction as both artist and advocate, and strongly believe that he will inspire future generations of filmmakers to continue telling our Asian story."
The critically acclaimed auteur has produced more than 20 works since 1983, examining themes around social and political circumstances. 
SGIFF's special showcase included his latest feature The President (2014) as well as other award-winning films such as The Cyclist (1987), Salaam Cinema (1994), Gabbeh(1995) and A Moment of Innocence (1995).
Makhmalbaf who attended the festvial to recive his award, also gave a masterclass on Dec 5.
Daddy's School, Hassan Solhjoo's documentary about the Makhmalbaf family's film school was also shown during the festival.
SGIFF presented the Honorary Award to Makhmalbaf at the Silver Screen Awards on Dec 5, at Singapore's Marina Bay Sands. Later Makhmalbaf dedicated his award to Kim Ji-Seok, Busan film festival programmer and one of the backbones of Asian cinema in the world.
 
Source of the news:
Singapore International Film Festival 2015
Screen Daily