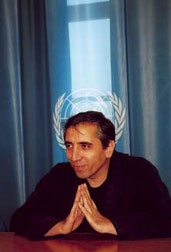 Asia Teck Film Media Festival which was held November 19-27 in Rome, Italy invited Mohsen Makhmalbaf to teach a course in cinema to students.
Also, the film 'Sex & Philosophy', his latest, was shown in this festival. The new Iranian Cultural Advisor requested the festival authorities to refrain from showing the film in exchange for money. This offer on the part of the festival was considered an insult to honoring freedom in Italy and the film 'Sex & Philosophy' was screened. The festival's special prize was given to Mohsen Makhmalbaf for his courage in expressing the issue and his artistic novelty in the film.
Previously, the books 'Crystal Garden' and the Buddha Was Not Destroyed in Afghanistan; it Fell out of Shame both authored by Mohsen Makhmalbaf had been published in Italian and the film 'Kandahar' broke the record for most viewed Asian film in Italy.