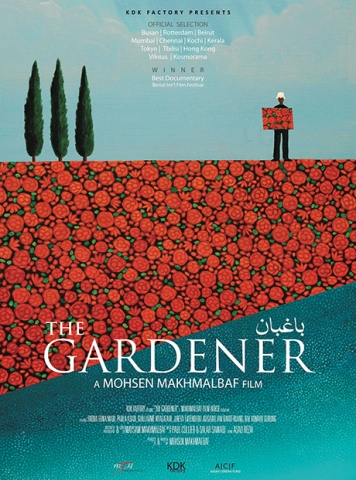 "The Gardener", an award-winning film of acclaimed Iranian director Mohsen Makhmalbaf is being considered for an Oscar nomination among 150 other eligible films in the Documentary-Feature category. The Gardener has screened in more than twenty film festivals, won two awards so far and is Makhmalbaf's third film entry to the Academy Awards.
The other two films include "Gabbeh," entry to the 70th Academy Awards in 1997 and "Sex and Philosophy," Tajikistan's official submission in 2005.
Filmed in Israel by an Iranian father-and-son filmmaker, "The Gardener" explores the positive and negative aspects of religion in today's world and introduces the Baha'i Faith, whose followers are systematically persecuted in the country of the filmmaker's birthplace, Iran.
The film has been an official selection in over twenty film festivals around the world, including Busan, Rotterdam, Tbilisi, Tokyo, Vancouver and San Paulo int'l film festivals. So far it has received the Best Documentary Award from Beirut and the Special Maverick Award from Motovun film festivals. The film has played as a Special Presentation at Kosmorama and Jerusalem film festivals where retrospective of Makhmalbaf were held and at Moscow film festival where he served as the head of festival jury.
Makhmalbaf's attendance at the Jerusalem film festival caused much controversy. In reaction to his trip to the festival and the making of "The Gardener," a film about a faith whose followers are currently in Iranian prisons, the head of Iranian Cinema Organization asked the Museum of Cinema in Iran to remove Makhmalbaf family's awards from the Museum.
Click the link to watch the trailer of the film THE GARDENER
SOURCE: TheWrap covering Hollywood