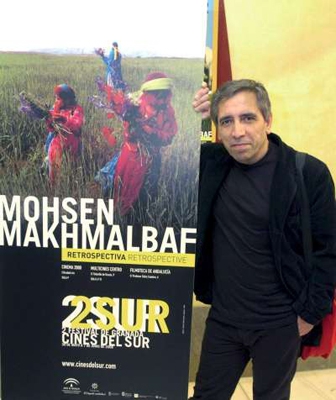 Organizers of the Cine Del Sur International Film Festival, which took place from 30th of May until 7th of June in Granada city of Spain, while holding a huge retrospective on Mohsen Makhmalbaf 's films this year; have published a book on him and his cinematic career.
In this large size book in 350 pages; there are articles about the figure and career of the director Mohsen Makhmalbaf written by many prestigious American, European and Asian writers that shed light on the work of the Iranian filmmaker, each using a different approach. The book, which features an excellent text by Makhmalbaf himself, includes articles written by Mirito Torreiro, Hamid Dabashi, Antonio Weinrichter and Angel Quintana, among others.
The title of the book is "Mohsen Makhmalbaf: from Discourse to Dialogue" and Fernando González García, Professor of History of the Cinema at the University of Salamanca, is the editor and coordinator of this comprehensive book.
Editors note on the book:
Mohsen Makhmalbaf's work is the ever-fluctuating outflow of the filmmaker's passion, curiosity and effort. Its various facets and phases present myriad possibilities for interpretation, depending on the viewer's frame of reference. Considered as a unified body of work, it challenges us to discern the reasons behind its many permutations; or else we can limit ourselves to examining the possibilities of each of its concrete manifestations at a given moment, which might then lead us to raise questions about the context and culture from which it arises, as well as its possible impact on various audiences: national or international, religious or secular, individualist or communitarian. Each of the articles in this book adopts a different approach, linked, however, in their exploration of either the whole of, or specific moments in this process of constant change and renewed propositions, which were initially dogmatic but are currently relativist.