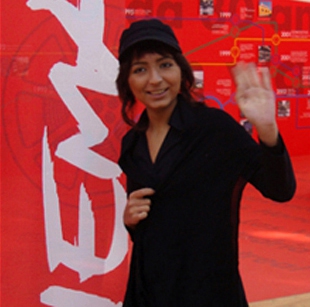 NHK, the Japanese well known TV channel, is going to shoot a documentary on Hana Makhmalbaf as a successful young Iranian film director.
The first part of the shooting is going to take place in Berlin film Festival while Hana Makhmalbaf is accompanying her film "Buddha Collapsed Out Of Shame" in Generation competitive section of Berlin Film Festival this year.
The second part of the shooting of this film, which is going to be shot in Iran, will be focusing on Hana Makhmalbaf daily life in Iran as a young successful girl in her society.
Prior to this, NHK has shot a documentary on Mohsen Makhmalbaf for its famous program "Who is who?" in 1999. The shooting of that film took place in Tehran and Kish Island while Mohsen Makhmalbaf was making his short film "The Door".
Buddha Collapsed Out Of Shame is going to be screened on 12th, 13th,14th and 17th of February in Berlin Film Festival this year. Hana Makhmalbaf will soon leave for Germany to accompany her film in the festival. Earlier; Samira Makhmalbaf, Hana s older sister, has attended the Berlin Film Festival in 2003 as a member of international jury.