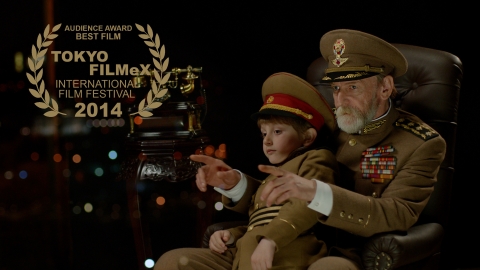 The President directed by Mohsen Makhmalbaf received The Audience Award for the Best Film from the 15th TOKYO FILMeX International Film Festival.
 
While accepting the award Mohsen Makhmalbaf said:" In Fact we were not brought to this planet to kill one another. We have come to this world to live in peace and with love on a beautiful planet called the earth, the only planet where the life exist. But unfortunately as you all can see our world today is filled with violence.
 
It has taken almost three billion years to reach to this variety and evolution of new species on this planet, but in the last three decades alone human being has managed to eliminate half of it.
In a recent announcement, United Nation requested to have five thousands volunteers to help in fighting the Ebola crisis, the attempt proved to be unsuccessful. however, at the same time ISIS easily recruited fifteen thousands volunteers to continue its act of violence.
This shows that there are more volunteers present and ready to sacrifice their lives for violence than to create peace and save life. One of the main reason behind this is a lack of culture for the peace. Art and specially cinema can be the messenger of peace in todays violent world."
 
Earlier "The President" won the Best Film Audience Award from Beirut Film Festival in Lebanon , as well as winning the Golden Hugo for the Best Feature Film from Chicago International Film Festival.
 
Tbilisi International Film Festival in Georgia has selected "The President" as its opening film on December the 1st. Mohsen Makhmalbaf and Hana Makhmalbaf (The assistant director and the editor of the film), will attend the opening ceremony alongside fifty of the professional actors of Georgian cinema whom acted in "The President".