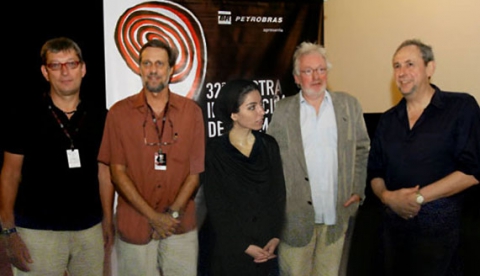 Samira Makhmalbaf from Iran together with juries from England, Germany, France and Brazil will attend the 32nd Sao Paolo International Film festival as jury. The board of juries of this festival officially began work with the holding of their first press conference on October 25th. Also the festival will pay tribute to Wim Wenders awarding him with the Humanity Award this year. The Sao Paolo festival opened on October 17th and will close on October 30th.
Also, Two-Legged Horse Samira Makhmalbaf's latest feature film has been called to attend the competition section of Women's Film Festival (WIFTS) in America. This festival will be held in December in West Hollywood and the board of jury will include juries from the Golden Globe and the Independent Women Critics and Filmmakers.
Two-Legged Horse will also be screened from October 30th to November 9th in the 22nd Festival of American Film Institute (AFI) in the World Cinema section.
Two-Legged Horse has so far been screened in Toronto, San Sebastian, Pusan, Ghent, Middle East and Montreal film festivals.