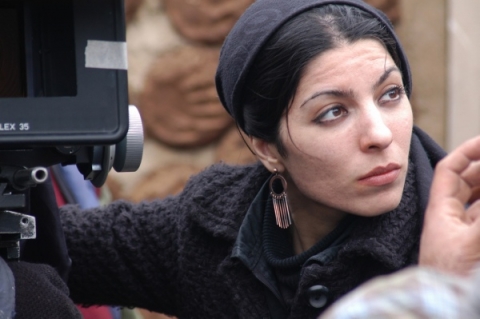 The fifth edition of CiBRA Film Festival which took place from 22nd of November to 1st of December in the city of Toledo in Spain has granted its special Alice Guy award to Samira Makhmalbaf.
This award which is given in the memory of the world first female filmmaker, Alice Guy, is presented to Samira Makhmalbaf, the celebrated Iranian filmmaker who broke the record for the world youngest filmmaker with her first film THE APPLE at the age of 17 in Cannes film festival in 1998.
The Jury, while presenting the award, said: "We are very glad to grant the "Alice Guy Award" to the outstanding Iranian filmmaker Samira Makhmalbaf for fighting and struggling each day to make movies, for her undoubted talent and for gathering the values over a century ago Alice Guy was an example of."
 
At the age of 17, Samira directed her first feature titled "The Apple" and She went on to become the youngest director in the world participating in the official section of Cannes Film Festival. She was praised on different occasions by the legendary Jean-Luc Godard for her film.
 
In 1999, Samira made her second feature film titled "Blackboards" in Kurdistan of Iran, and for the second time was selected by the Cannes Film Festival to compete in the official section in 2000 where she won the Special Jury Award.  
 
The third feature by Samira Makhmalbaf titled "At Five in the Afternoon", the first feature film shot in Afghanistan post Taliban, brought her the Jury's Special Award for the second time in Cannes film festival 2003.
 
After the closing gala of CiBRA film festival, Samira Makhmalbaf (who has also been member of the jury in several prestigious film festivals like, Cannes, Venice, Berlin, San Sebastian.... as well as heading the jury in Montreal, Goteborg and Edinburgh international film festival) departed for the Tbilisi international film festival in Georgia where she will be joining the panel of jury for the main competition section of this festival.
Source of news:
CiBRA Film Festival
Tbilisi International Film Festival