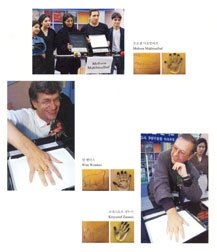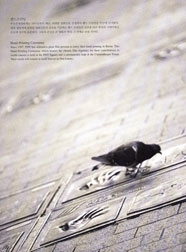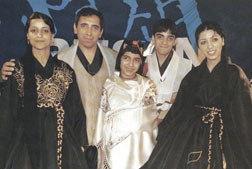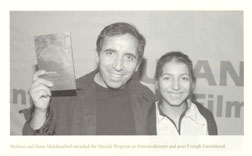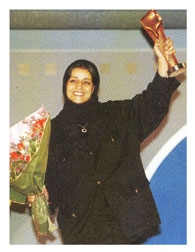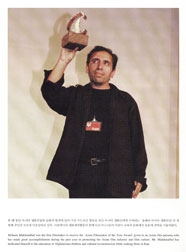 Starting November 2005 the film Sex & Philosophy by Mohsen Makhmalbaf will be shown in 20 theaters in Korea in various cities including Seoul and Pusan by Eureka Pictures Company. This is the first widespread screening of an Iranian film in Korea. Mohsen Makhmalbaf has traveled to Korea to attend press conferences regarding the event.
 
Previously, Kandahar, Gabbeh, Blackboard, At Five in the Afternoon and The Day I Became a Woman by Makhmalbaf Film House have been shown in theaters in Korea. In 2000 the Pusan Film Festival in view of honoring the only Asian family filmmakers whose members each have made films in the international arena published a book titled Salam Cinema in Korean and English. Kim Jee Seok published an article entitled 'Makhmalbaf Family Opened New Doors to Cinema' and held showings of the films by each member of the family. 
 
Prior to that in 1998 the film Silence by Mohsen Makhmalbaf was shown in an outdoor theatre at the beach with an audience of 5000 as the opening of the Pusan Film Festival and Mohsen Makhmalbaf attended the festival as jury member. In 2000 the film The Day I Became a Woman by Marziyeh Meshkiny received the best film award from Pusan International Film festival.
In 2003 Pusan International film festival granted the Best Asian Director award to Mohsen Makhmalbaf and also his book The Buddha Was not Destroyed in Afghanistan; It fell Out of Shame was published in English and Korean in that country.
Also in 2003 in honor of Forough Farrokhzad the renowned Iranian poetess, Mohsen Makhmalbaf requested the Pusan Film Festival to publish her poems in order to introduce her to the Korean public and he himself wrote the preface Forough Was Our Sister.
in review of her film 'This House is Dark'.
The Korean distributor reminded:
The mentioned portfolio and also the importance of the film Sex & Philosophy has been the premise for the widespread screening of this film in Korea. Up until a few years ago 90 percent of movie theaters in South Korea were under the monopoly of American films. Presently, 55 percent include Korean films and 45 percent from other countries.