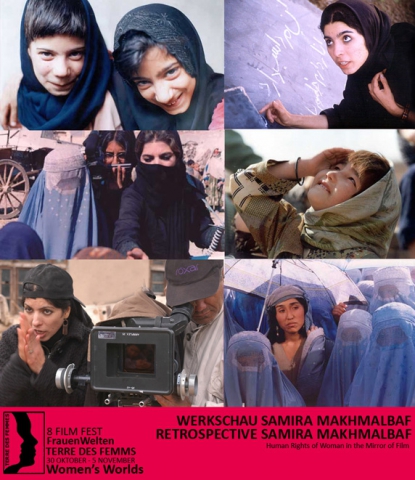 A tribute to Samira Makhmalbaf was held in the Women's World Festival in Germany's University city of Tuebingen with the screenings of her films Apple, the Blackboard, 11 September, How Samira Made the Blackboard (behind-the-scene of the Blackboard by Maysam Makhmalbaf) Joy of Madness (behind-the-scene of At Five in the Afternoon by Hana Makhmalbaf), Samira and Non-professional Actors (behind-the-scene of Two Legged Horse by Hana Makhmalbaf).
This Festival is held from October 30th to November 5th every year in honor of the International Day of Violence against Women by screening 20 films from around the world.
The question and answer session between the press/audience and the director was also held after every film screening. Also, Samira's workshop on methods of directing was held on November 6th for other filmmakers present at the festival and a selected group of students majoring in filmmaking. Previously, Samira Makhmalbaf had held a workshop with the topic of directing non professional actors in Toronto's international film festival.