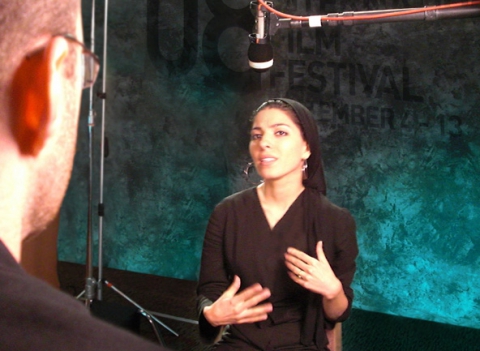 Two Legged Horse, Samira Makhmalbaf's latest film was screened at 9 pm on September 6th in the great hall of Scotibank and warmly welcomed by the audience and critics.
After the screening of the film, the audience expressed questions and later on, the critics and the press who had already viewed the film earlier in the press-screening attended a question and answer session.
The film's director in an answer to the question whether the film aimed at showing the situation in Afghanistan or Iran or the east in general stated: "This film is neither the story of Afghanistan or Iran nor the east. Rather, it is a mirror that reflects violence on the part of contemporary human soul that can happen anywhere. She added: "Freud says that the whole history of civilization is as thin as a layer of ice on an ocean of ignorance and violence. That's why by the slightest snap of wars and personal hostilities this thin layer of civilization cracks and the ocean of ignorance and violence break loose. My reason, the contemporary world news that we hear day and night on the conflicts around the world.
Samira Makhmalbaf in an answer to another question said: "Watching this film makes you afraid of seeing a part of your real self. And I fear of you who do not dare to confront and pass over the inner violence of mankind. Not that you are not used to violence because everyday, Hollywood with its violent films conditions you to watch violent films and it is exactly why you easily overlook the news around the world naming in Iraq, Afghanistan or Palestine…