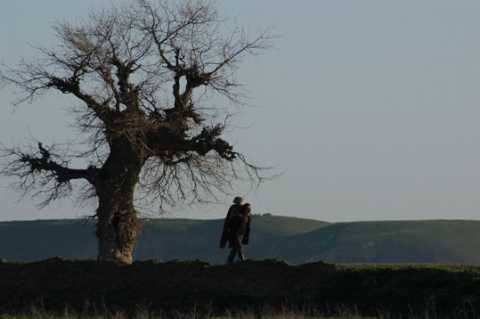 Toronto International Film Festival has invited "Two-Legged Horse" by Samira Makhmalbaf to its official competition section in 2008.
Toronto International Film Festival which takes place form 4th to 13th of September every year, as well as long being known for screening of independent and Art film cinema, is one of the most important film markets in the world.
After Toronto, Two-Legged Horse will go to compete in the main section of San Sebastian International Film Festival in Spain.
This is the fourth feature by Samira Makhmalbaf after The Apple, The Blackboard and At Five in The Afternoon.
Samira Makhmalbaf
Born on February 15,1980 in Tehran. At the age of eight, she played in "The Cyclist" directed by her father, Mohsen Makhmalbaf the celebrated Iranian filmmaker.
At the age of 17, she directed her first feature titled "The Apple" and She went on to become the youngest director in the world participating in the official section of the 1998 Cannes Film Festival. She was praised on different occasions by the legendary Jean-Luc Godard for her film. The Apple was invited to more than 100 international film festivals in a period of two years, while going to the screen in more than 30 countries.
In 1999, Samira made her second feature film titled "The Blackboard" in Kurdistan of Iran, and for the second time was selected by the Cannes Film Festival to compete in the official section in 2000. She was granted the Special Jury Award. The Blackboard received many international awards including the "Federico Fellini Honor Award" from UNESCO and "Francois Truffaut Award" from Italy. The film was widely released across the world and more than two hundred thousand people watched the film in France alone.
Samira alongside other prominent director like Ken Loach, Shohei Imamura, Youssef Chahine, Sean Penn…. made one of the eleven episodes of the film "September 11". The film was premiered at Venice International Film Festival in 2002.
The third feature by Samira Makhmalbaf titled "At Five in the Afternoon", the first feature film shot in Afghanistan post Taliban. The film was selected for the competition section of Cannes Film Festival in 2003, receiving the Jury's Special Award for the second time.
In 2004, she was selected as one of forty best directors of the world by Guardian newspaper. 
Since the Iranian Government did not give the permeation to shoot in Iran to her, Samira Makhmalbaf shot her last film in Afghanistan titled Two-Legged Horse in 2007. Her shooting in Afghanistan was disturbed by thrown of a bomb into her scene which resulted in severe injuries of 6 people. Despite all the difficulties she faced, Samira did not leave Afghanistan until she finished her film.
Samira Makhmalbaf has also participated as jury member in reputable film festivals such as Cannes, Venice, Berlin, Locarno, Moscow, Montreal,…