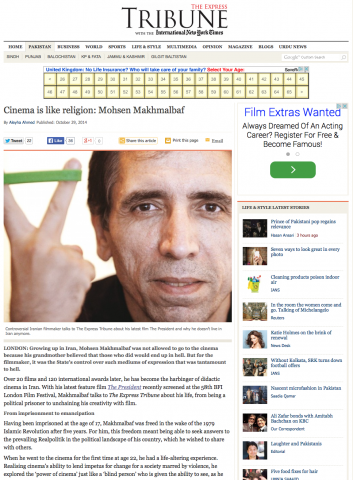 THE EXPRESS TRIBUNE
with the international NEWYORK TIMES
30 October, 2014 | By Aleyha Ahmed
Controversial Iranian filmmaker talks to The Express Tribune about his latest film The President and why he doesn't live in Iran anymore.
LONDON: 
Growing up in Iran, Mohsen Makhmalbaf was not allowed to go to the cinema because his grandmother believed that those who did would end up in hell. But for the filmmaker, it was the State's control over such mediums of expression that was tantamount to hell.
Over 20 films and 120 international awards later, he has become the harbinger of didactic cinema in Iran. With his latest feature film The President recently screened at the 58th BFI London Film Festival, Makhmalbaf talks to The Express Tribune about his life, from being a political prisoner to unchaining his creativity with film.
From imprisonment to emancipation
Having been imprisoned at the age of 17, Makhmalbaf was freed in the wake of the 1979 Islamic Revolution after five years. For him, this freedom meant being able to seek answers to the prevailing Realpolitik in the political landscape of his country, which he wished to share with others.
When he went to the cinema for the first time at age 22, he had a life-altering experience. Realising cinema's ability to lend impetus for change for a society marred by violence, he explored the 'power of cinema' just like a 'blind person' who is given the ability to see, as he says.
Setting a precedent with The President
The idea for The President came around eight years ago when Makhmalbaf was at the Palace of Amanullah Khan in Afghanistan, standing at the edge of a hilltop that looks over Kabul. He pondered over the concept of a dictator, commanding that the city's lights be turned on and off again just to entertain his grandson. For the film, he also drew inspiration from his time in prison, where he saw how his fellow detainees, who were subjected to torture, became the epitome of the dictatorial figureheads they had once strived to depose.
(The President follows the lives of a dictator and his grandson, who are on the run after the downfall of his totalitarian regime. STOCK IMAGE)
While the film's script was initially due to be set in Afghanistan, Makhmalbaf was unable to pin down a producer at the time. But three years later, the harrowing consequences of the Arab Spring compelled him to revisit the script. "I cried a lot for the Syrian people," he says. "Look at the last three years and how many people have been killed by the exact same concept and tragedy that you will see in The President," he adds.
The outcome of his train of thought was The President, a film that follows the lives of a dictator and his grandson, who are on the run after the downfall of his totalitarian regime. It seeks to "explain the tragedies of dictatorship and revolution," as Makhmalbaf explains, creating an impact not only as a reflection of the prevailing events in the Middle East, but also as a study of human nature. Set in a fictional country with an ambiguous ending, The President is arguably Makhmalbaf's most commercial film to date.
Impact on the Iranian regime
Makhmalbaf's family has had to face consequences for documenting societal taboos and perils, with constant fear shadowing his wife and children wherever they go. As they continue to challenge the status quo, the Makhmalbafs work together under the banner Makhmalbaf Film House. The family now lives in France, as it cannot return to Iran. Makhmalbaf fears that no matter which country he is in, his family will not be safe from the Iranian pursuit to have them killed.
As a direct consequence of Makhmalbaf's documentary Afghan Alphabet (2002), an Iranian law prohibiting Afghan child refugees from attending school was repealed. As a result, 500,000 Afghan children on the Afghan-Iran border were enrolled into the Iranian education system. "Afghan Alphabet proved that cinema can lead to great social upheavals and had I been born to make just this one film, it would have been worth it."
He alleges that the Iranian government has made several attempts on both his and his family's lives. This includes detonating a bomb on his elder daughter Samira's set while she was shooting Two Legged Horse (2007) in Afghanistan, which resulted in one person being killed and 20 others being injured. Despite these threats, he remains devoted to the cause and is even prepared to die for it. "If hundreds and thousands of people have been killed by dictatorships, why should we be silent and do nothing? It is our responsibility," he maintains.
What's next for Makhmalbaf
Describing his style as 'poetic realism' and his films "between fiction and documentary, reality, poem and philosophy," Makhmalbaf remains undeterred by conventions. Although he has previously made films comprising elements of fiction and documentary styles of storytelling, his most recent efforts tilt towards documentary-like features, including his previous feature film controversially shot in Israel, The Gardener (2012).
An advocate of peace and the idea that borders and labels increase violence, Makhmalbaf has a humanistic approach towards society. "We are first human beings, then we are men or women, then we are Iranian or British, and then we are Muslims or Christians. The cinema is [like] religion… it is the religion of human beings. Who put borders between us except politics, religion and economy? We should kill these borders and not human beings," he comments.
He is yet to disclose the concept for his next film, for which he has nearly 30 completed scripts to choose from, but it will expectedly comment on the world and perhaps even how to address its woes. Lauded for his eclectic, innovative style of filmmaking, he continues to push the envelope both in terms of his work's aesthetics and socio-political relevance. Makhmalbaf really is as he describes himself: "A man standing on planet Earth, with [his] hand [touching] the sky."