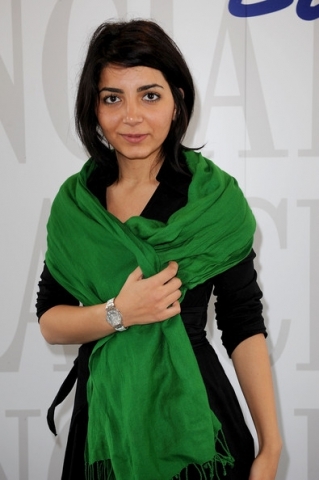 Screen Daily
By Melanie Goodfellow
17 June, 2015
 
Italian-language film could shoot this autumn in Southern Italy.
 
Iranian director Hana Makhmalbaf unveiled first details of her upcoming film Single Mother at the Paris Coproduction Village (June 10-12) last week.
 
The inter-generational drama revolves around a young single mother who leaves her six-year-old daughter in the care of an older woman when she leaves her small town in southern Italy to look for work in the north of the country.
 
"Although the synopsis says it's about a 22-year girl living in Italy, this story could happen anywhere in the world," said Makhmalbaf on the fringes of the coproduction event. "I wanted to capture the situation of three generations of women in the world today."
 
The new project is her first film since Green Days, about an Iranian playwright struggling with creative block against the backdrop of the political clashes that broke out after the contested presidential elections in 2009.
 
It premiered out of competition at Venice in 2009 followed by screenings in Toronto and San Sebastian.
 
In between, the 26-year-old filmmaker worked on her father Mohsen Makhmalbaf's Georgia-set The President.
 
The new film is a family affair. He father wrote the script while brother Maysam is producing under the London-based Makhmalbaf Film House banner.
 
The family spent time in a small town in Southern Italy earlier this year as part of the script-writing process.
 
"We showed it to a lot of people… even the mayor. They couldn't believe it hadn't been written by an Italian," said Hana Makhmalbaf. "But although it has a lot of Italian elements, it's an international story."
 
She added that directing in a foreign language did not pose a problem for her.
 
"Is it difficult to make it in Italian? For us, no," she said. "If you know how to do it - and we have done it several times - there is a way to do it. For example, The President was shot in Georgia, in Georgian. I was directing the small child and I didn't speak a word of Georgian."
Brother Maysam said they had met with several potential partners during the Paris Coproduction Village. The Makhmalbafs have previously worked with Bac, Wild Bunch, Le Pacte and MK2.
"It was great to come here because we could meet several companies in a short space of time," he said.
He added that the financing of the project could go one of two ways.
"In the past we've either put together a co-production – as was the case with The President, which was a French, German, UK and Georgian coproduction, or someone has come along and brought all rights, leaving us to execute the creative side," he explained.
For now, Maysam is attempting to build a co-production involving UK, French and Italian partners.
The aim is to shoot the film in Italy this autumn if the financing comes together in time.
"That's the period that would work best for the light and atmosphere of the film and would also be good timing for sales agents," said Maysam Makhmalbaf.
 
Source: Screen Daily 17 June 2015