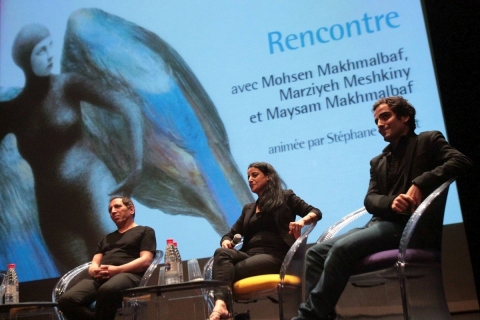 43rd La Rochelle International Film Festival, which is held from 26 of June till 5 of July in France, has paid a tribute to the Makhmalbaf Family this year.
In this programme during the festival 16 films made by the members of the Makhmalbaf family, one film by Abbas Kiarostami about Mohsen Makhmalbaf and Daddy's School by Hassan Solhjoo a documentary on Makhmalbaf Film School was screened.
Marziyeh Meshkiny, Mohsen and Maysam Makhmalbaf attended the festival this week and took part in a press conference organised by the festival, where the members of the audience and press were given the chance to meet the family and talk about their cinematic journey.
List of the films in this programme:
By Mohsen Makhmalbaf:
The Cyclist
Time Of Love
Salam Cinema
A Moment Of innocence
Silence
Kandahar
The Gardener
The President
By Samira Makhmalbaf:
The Apple
Blackboards
At Five In The Afternoon
By Hana Makhmalbaf:
Joy Of Madness
Buddha Collapsed Out Of Shame
By Maysam Makhmalbaf:
How Samira Made The Blackboard
By Marziyeh Meshkiny:
The Day I Became a Woman
Stray Dogs
Films by others about Makhmalbafs:
Close up by Abbas Kiarostami
Daddy's School by Hassan Solhjoo
La Rochelle film festival, considered as one of the highest quality film festival in France, will conclude on the evening of sunday July 5th.
 
Source of news:
Makhmalbaf: La Famille Cinema
SUD QUEST: Un cinéma de résistants
French Radio: RFI
France Culture: La Famille Makhmalbaf