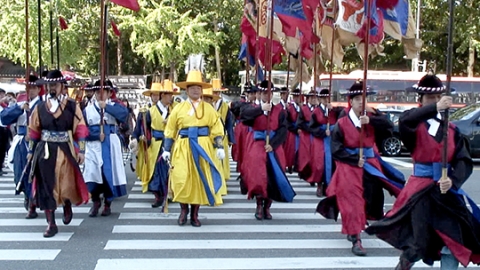 'Ongoing Smile' Mohsen Makhmalbaf's new documentary, filmed in South Korea in English language, will be premiered in Busan & Beirut International Film Festival simultaneously this October.
Mohsen Makhmalbaf explains the film:
" We, as human being, used to search for the ways to live longer. Now, that the our life expectancy has gone up, we are faced with a new challenge of how to fill this long life properly. The question is, would it at all possible to live longer and not become depressed and end up in elderly's house?
KIM Dong-Ho, a man from South Korea pictured in the film Ongoing Smile, shows us how you can enjoy your life, and at the same time be very useful to your society even if when you are 74 years old.
At the age of 74, many people retire themselves or go and spend the rest of their life in elderly's house. But Kim Dong-Ho has made the decision to live like a young and energetic man until the end of his life.
He gets up early around 4 am every morning. He does his exercise for an hour. Then he checks the news and respond to his emails. After that, he takes the bus to his work. He is currently working in a university of film and media, which he has launched himself two years ago.
KIM is the same man whom established the largest Asian Film Festival when he was almost 60 years old. Now that he is 74 years old, he has just decided to make his first film as a director. His first film was premiered at Berlin Film Festival earlier this year.
He is very social. Every month, during his lunch and dinner he holds 60 different meeting. Most of these meeting are to start new thing, some of them to catch up with his old friends. KIM still keeps his relation with his friends from the time he did his military service fifty-five years ago, and tries to gather them once every month.
KIM is very respectful man and at times he seems a bit shy, but when the occasion comes along to dance with Juliette Binoche , the french superstar, even a very young man would not able to match his performance..."
In this film: KIM Dong-Ho, Juliette Binoche, KANG Soo-Yeon, YEH Ji-Won, AHN Sung-Ki, Kim Ji-Seok, KIM Ki-Duk, Peter van BUEREN, Roger GARCIA, Christian JEUNE, Tomiyama KATSUE
Cinematographer: Maysam Makhmalbaf
Editor: Marziyeh Meshkiny
Producer: Hana Makhmalbaf
A Makhmalbaf Film House Production
Click the Link to watch the trailer of the film ONGOING SMILE
To see the Movie Page Click here ONGOING SMILE Page