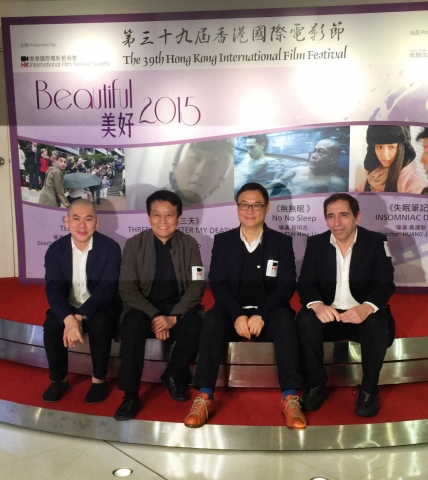 The 39th edition of Hong Kong international Film Festival, which takes place from  23rd of March to 6th of April, has invited Mohsen Makhmalbaf as its head of Jury this year.
Makhmalbaf is joined by Jonathan Rosenbaum (the renowned film critic), Sandra Ng (Actress) and Chris Lee (Film Producer) on the jury panel.
On the 28th of March, Makhmalbaf's latest feature THE PRESIDENT also went on screen in the festival.
Building on past massive success, the festival has once again collaborated with eminent directors from the world to produce Beautiful 2015 composed of four shorts directed by Iran's Mohsen MAKHMALBAF, Taiwan's TSAI Ming-Liang, China's HUANG Jian-Xin and Hong Kong's YIM Ho.
In Beautiful 2015… from Beijing, Huang Jianxin wonders if it's nobler to sleep or not to sleep in Insomniac Diary. In London, Mohsen Makhmalbaf's The Tenant tells the misadventures of an Iranian boy trying not to lose his bed-sit. With Three Days after My Death, Yim Ho creates a parable: a woman who wants to die must save someone's life before her death wish be granted. Tsai Ming-Liang returns with No No Sleep, where bare-footed Lee Kang-Sheng walks Tokyo streets in the depth of winter.
The HKIFF presented the World Premiere of this omnibus production on 27th of March.
"The Tenant is the shortest film, at just under 20 minutes, and it's also the most immediate and forceful: It is almost a perfect short film, each character full and loaded with potential, a situation with layers of significance…" says  Fionnuala Halligan of Screen Daily.
The Hong Kong International Film Festival conclues on the evening of Monday the 6th.
Source of the news:
Screen Daily
Hong Kong International Film Festival