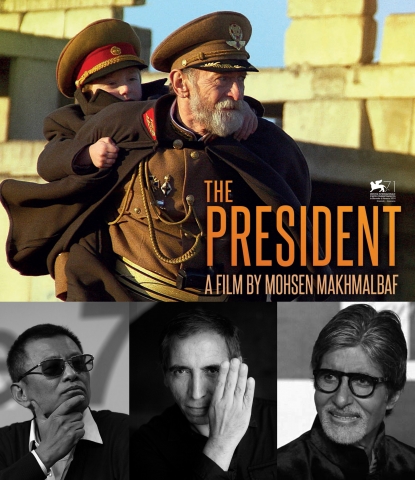 GOA the oldest film festival of India has chosen "THE PRESIDENT" directed by Mohsen Makhmalbaf as its opening film while "The Grandmaster"  directed by Wong Kar-wai would be the closing film of the 45th edition of the festival this year.
 
The two legends of Indian cinema, megastar Amitabh Bachchan and superstar Rajinikanth, will share the dais at the opening ceremony of the 45th International Film Festival of India (IFFI) to be held at Goa 20 November to 30 November.
 
In addition, "GABBEH" by Mohsen Makhmalbaf will be the opening film of another section of the festival called " Soul of Asia".
 
A retrospective of Mohsen Makhmalbaf's works with eight films will be another attraction of this edition of the festival. This section will be opened by screening of the film SALAM CINEMA.
Other films screened in this section includes: "A Moment Of Innocence , Kandahar, Silence, Sex and Philosophy and Time Of Love" directed by Mohsen Makhmalbaf and "The Day I Became A Woman" directed by Marziyeh Meshkiny (Makhmalbaf's wife).  "Daddy's School" a documentary about the Makhmalbaf Film School directed by Hassan Solhjoo will also be screened during the festival.
 
Mohsen Makhmalbaf and Marziyeh Meshkiny will travel to india to attend the festival and their retrospective program. Misha Gomiashvili and Dachi Orvelashvili, actors of the film THE PRESIDENT, have also been invited by the festival to attend the opening ceremony for the screening of the film.
 
The President opened the Orizzonti section of  Venice film festival earlier this year and went on screen in Beirut film festival where it won the Best Film Award by the audience vote, as well as winning the Golden Hugo for the best film from Chicago Film Festival.